8kg Wash / 5kg Dry Eco Hybrid Washer Dryer Combo
Washer and Dryer in One
LG Washer Dryer is another of our leading appliance technologies. Save space in your home and make more room for your family. LG Washer Dryer means you don't need to buy a separate dryer but still get your clothes sparkling clean and dry, too.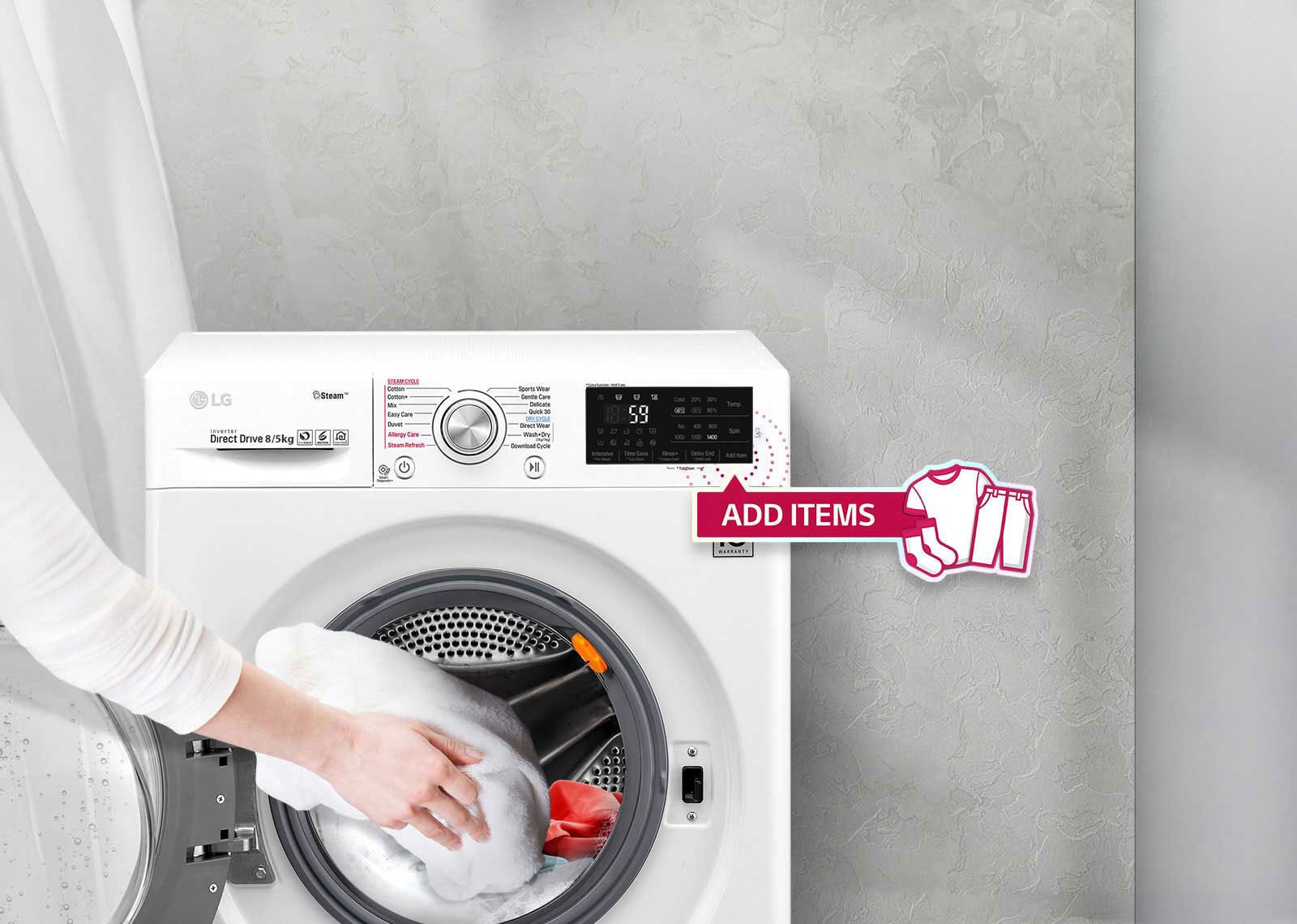 Add forgotten items
mid-cycle
If you miss to put laundry during washing, just press "Add Item" and add any laundry from small socks to big jacket. Cotton, Mix, Easy Care, Speed14 whichever you selected, door can be opened* immediately less than 3 sec during washing.
*Depending on the clothes amount and fabric type, door lock may not be released. If water temperature is higher than 40℃, door lock is not released for safety.
OPTIMAL WASH for fabrics
with 6 Motion DD
Select a wash program and 6 Motion Direct Drive technology moves the wash drum in multiple directions, giving fabrics the proper care while getting clothes ultra clean.
Less vibration, Less noise
The Inverter Direct Drive Motor that powers our washing machines is super reliable and really quiet. We know it is one of the best washing machine motors on the market, which is why all our machines come with a standard 10 year warranty on the motor. Nothing standard about that now, is there?
Cycle Download lets users download new wash program such as Wool, Baby Care or Cold Wash.

Smart Diagnosis™ quickly troubleshoots almost any minor issue before it becomes a bigger problem.
* Products shown are based on the Global product portfolio, of which some may not be available in the South African market.
KEY FEATURES
Inverter Direct Drive™

Yes (Post DD)

Steam™ (True/Spa)

Spa

6 Motion

Yes

Energy Efficiency Class

A

Add Item

Yes

Smart function – Smart Diagnosis

Version 3.0

Smart function – NFC (Download cycle, NFC)

Yes
FEATURES
Finish – Body Color

Blue White

Finish – Door

Silver Rim + Black Tint

Finish – Display Background color

Black

Finish – Dial Knop

Silver

Basic – Max Wash Capacity (kg)

8

Basic – Max Dry Capacity (kg)

5

Basic – Spin speed

1400/1000/800/400/No spin

Basic – Variable Temperature (℃)

Cold/20/40/60/95℃

Basic – Water feed (Hot/Cold)

Cold Only

Basic – Auto Restart

Yes

Basic – Standby Power zero

Yes

Basic – Spray Detergent water (Circulation)

Yes

Basic – Door Switch type

Auto Door

Basic – Door Openning Angle (º)

150

Basic – Drum Volume (liters)

59

Basic – Drum Hole Size (mm)

300 (R)

Basic – Inner Drum

Embossing

Basic – Drum Lifter

Wave Lifter

Contol – Program selector

Dial + Touch

Contol – Display Type

White LED

Contol – Figure indicator (Remain time, temp, RPM)

18:88

Contol – Delay timer

3 – 19hrs

Contol – Start/Pause Indication

Yes

Contol – Door Lock Indication

Yes

Contol – Error Message Indication

Yes

Contol – Error Message Alarm

Yes
WASH PROGRAM
Cycle No.

14

General – Cotton

Yes

General – Cotton+

Yes

General – Mix

Yes

General – Easy Care

Yes

General – Duvet

Yes

Caring – Allergy Care (SteamTM or SpaSteam)

Yes

Caring – Gentle Care

Yes

Caring – Stain Care

Yes

Caring – Baby Steam Care (SpaSteam only)

Yes

Special – Sports Wear

Yes

Special – Download Cycle (Default Rinse + Spin)

Yes

Special – Direct Wear (WD only)

Yes

Special – Wash + Dry (WD only)

Yes (5kg)

Special – Quick 30

Yes
ADDITIONAL OPTIONS
Prewash

Yes

Crease Care

Yes

Time Delay (Delay End)

Yes

Child – Lock

Yes

Spin Only

Yes

Beeper On/Off

Yes

Tub Clean

Yes

Wash Option – Normal

Yes

Rinse Option – Normal

Yes

Rinse Option – Rinse+

Yes

Dry Option (WD Only) – Normal Eco

Yes

Dry Option (WD Only) – Low Temp.

Yes

Dry Option (WD Only) – Iron

Yes

Dry Option (WD Only) – Cupboard

Yes
DOWNLOAD CYCLE
Baby Wear

Yes

Kids Wear

Yes

School Uniform

Yes

Swimming Wear

Yes

Rainy Season

Yes

Gym Clothes

Yes

Jeans

Yes

Blanket

Yes

Sweat Stain

Yes

Single Garments

Yes

Color Care

Yes

Quiet Wash

Yes

Rinse + Spin

Yes

Quick Wash + Dry

Yes

Dry 30

Yes

Dry 60

Yes

Turbo Dry

Yes

Shirt Dry

Yes
DIMENSION
Dimension (WxDxH mm)

600 x 560 x 850

Box Dimension (WxDxH mm)

660 x 655 x 885

Weight (kg)

68

Weight include packing (kg)

72