RS54N3A13S8 540 L with No Frost & Multi Flow Side By Side Refrigerator
Wine Rack
Minimalist Design
Sophisticated and neat minimal design for an absolute contemporary stylish and clean look!
Capacity
Enjoy enough space to store foods,like meats, frozen delights, fruits and vegetables for your whole family or party guest.
Fridge & Freezer Drawer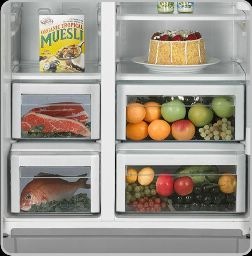 Big drawers in Freezer and Fridge permit You to easily take out foods and to even store large sized items. The separation into 2 drawers In fridge as well as freezer compartment help to separate different kinds of foods and especially avoid mixing of small items.
No-Frost Technology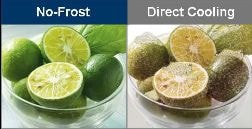 – Stays in Right Condition. Doesn't Stick Together- Making it Easier to Recognise. No Ice Build Up
Multi Flow
Cooling air flows out throught multiple outlets at every shelf level and maintains even and constant temperature.

Ultimate Usage
Feel the difference with technical features

Smooth Look without Hinge
Your kitchen looks more arranged and beautiful in smooth silhouette with Samsung side by side refrigerator. Neat square frontal view with covered hinges provide a seamless appearance and create a neat kitchen environment with a polished look.
540 

Net Total(Liter)

All Around Cooling

Cooling Type

5 EA

Number of Shelf (Total)

912 

Net Width(mm)

734 

Net Depth with Door Handle(mm)

1,789 

Net Case Height with Hinge(mm)
Capacity

Net Total(Liter)

540 

Net for Freezer(Liter)

180 

Net for Fridge(Liter)

360 

Physical specification

Net Width(mm)

912 

Net Case Height with Hinge(mm)

1,789 

Net Depth with Door Handle(mm)

734 

Net Depth without Door Handle(mm)

672 

Net Weight(kg)

105 

Cooling Feature

No Frost

Yes

Cooling Type

All Around Cooling

Refrigerator Feature

Number of Shelf (Total)

5 EA

Dairy Compartment

Yes

Number of Door Pocket

4 EA

Big Guards

Yes

Egg Container(Egg Tray)

Yes

Fresh room

Yes

Shelf Material

Tempered Glass

Number of Vegetable&Fruit Drawer

2 EA

Interior Light

LED

Freezer Feature

Number of Shelf (Total)

4 EA

Number of Door Pocket

5 EA

Number of Drawer (Vegetable & Fruit)

2 EA

Icemaker

Yes

Interior LED Light

Yes

General Feature

Door Alarm

Yes

Refrigerant

R600a

Cyclopentane Insulation

Yes

Exterior Feature

Display & Control (Fridge and Freezer)

Metal Inlay

Door Handle

Short Bar

Color

Metal Graphite