A+++ efficiency
A+++ Energy Efficiency with Heat Pump Technology*
Save money and protect the environment by using less electricity*. Heatpump technology offers an energy-efficient, cost-effective and gentle way to dry clothes. It is A+++ energy rated as it uses 'refrigerant' instead of electricity to heat the air and recycles warm air to avoid wasting energy.
* Only available on certain models.
** Tested in accordance with IEC 61121:2013/8kg Wash load/Cotton Cupboard with Heatpump (DV80F5E4HGW) vs. without Heatpump (DV80H4100CW). Individual results may vary.
Opens how you want
Reversible Door
Choose the direction that the reversible door* opens to suit the layout of your home. Just change which side it opens to fit the location, what's around it and how you do things. It also means that walls won't get in the way! And it is transparent*,so you can check what's inside with a glance.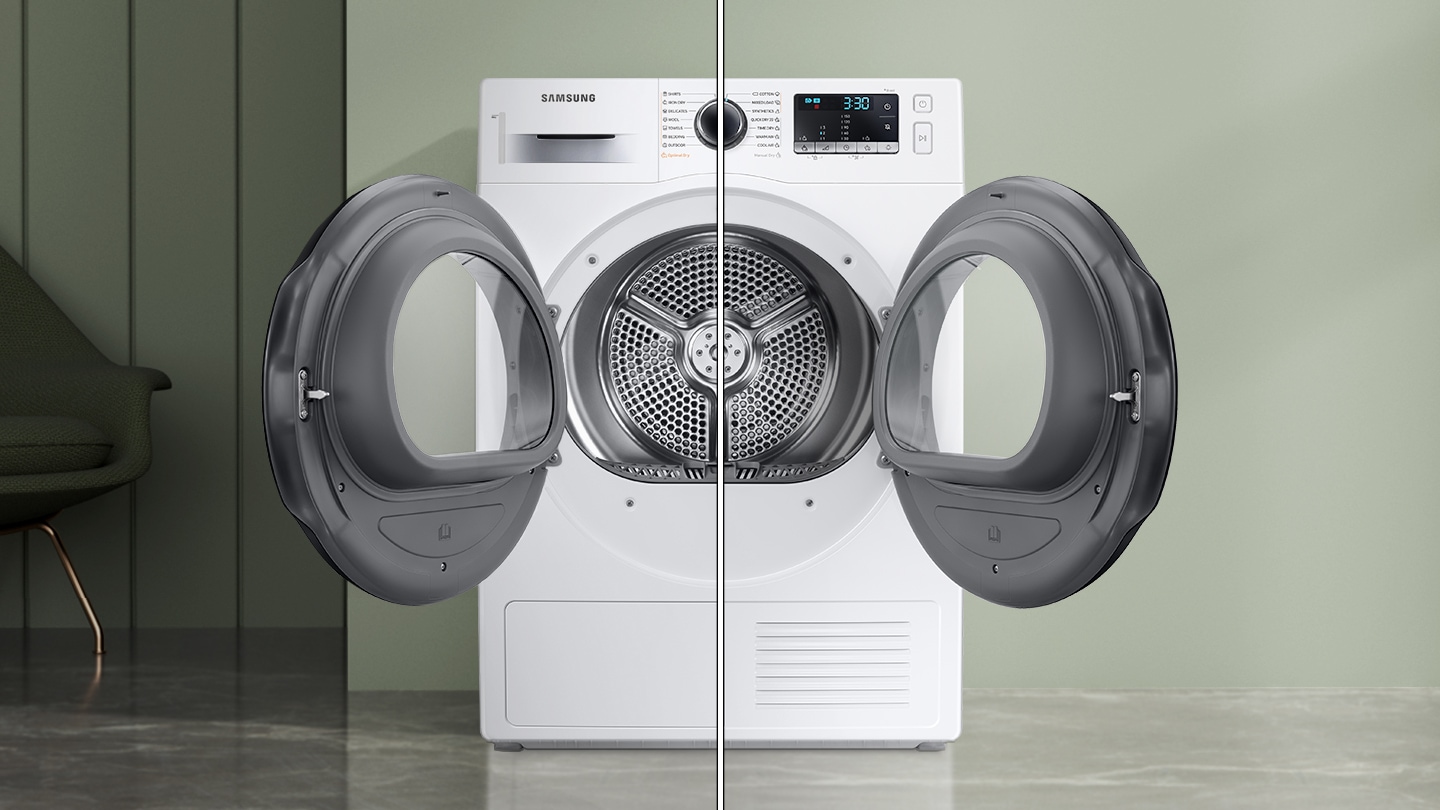 * Only available on certain models.
Wrinkle-free clothes
Wrinkle Prevent
Keep dried clothes wrinkle-free without ironing. Simply select Wrinkle Prevent and, once the drying cycle ends, it intermittently turns the drum with no heat for up to 180 minutes. It prevents clothes from resting in one place for too long while hot, so creases don't form in the fabric.
Intelligently dries
OptimalDry
Optimize your drying performance effortlessly! OptimalDry uses 3 sensors to achieve the best results. It monitors the humidity and adjusts the drying time, so laundry is ready quickly and using minimal energy. It also stops clothes from being damaged and reminds you to clean the Heat Exchanger.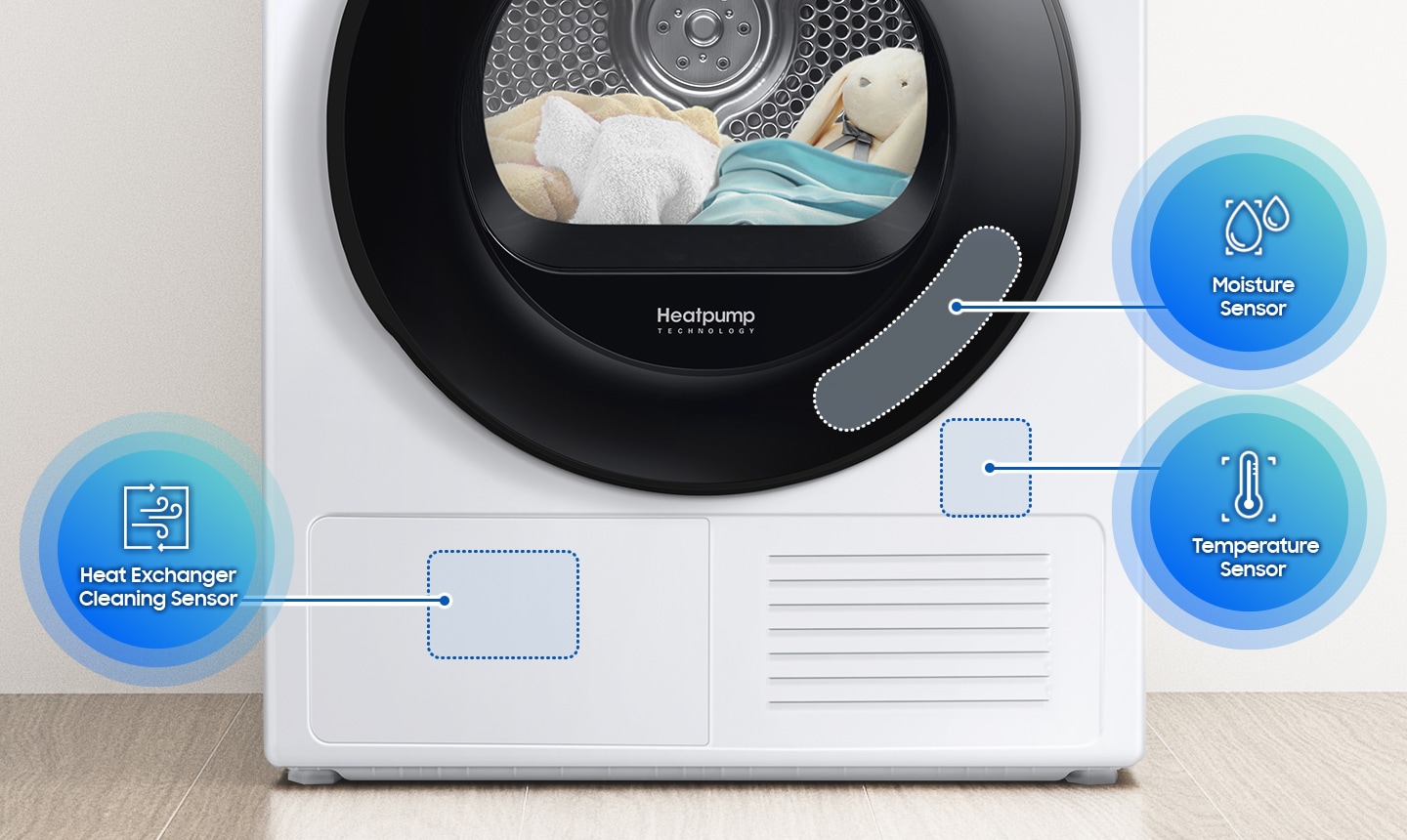 Easy maintenance
2-in-1 Filter
Maintain your dryer more easily and optimize the drying performance and safety. An innovative 2-in-1 Filter has a two-layered mesh filter. So there's no need for a Heat Exchanger filter, making it easier to maintain. Two alarms also remind you when the Filter and Heat Exchanger need cleaning.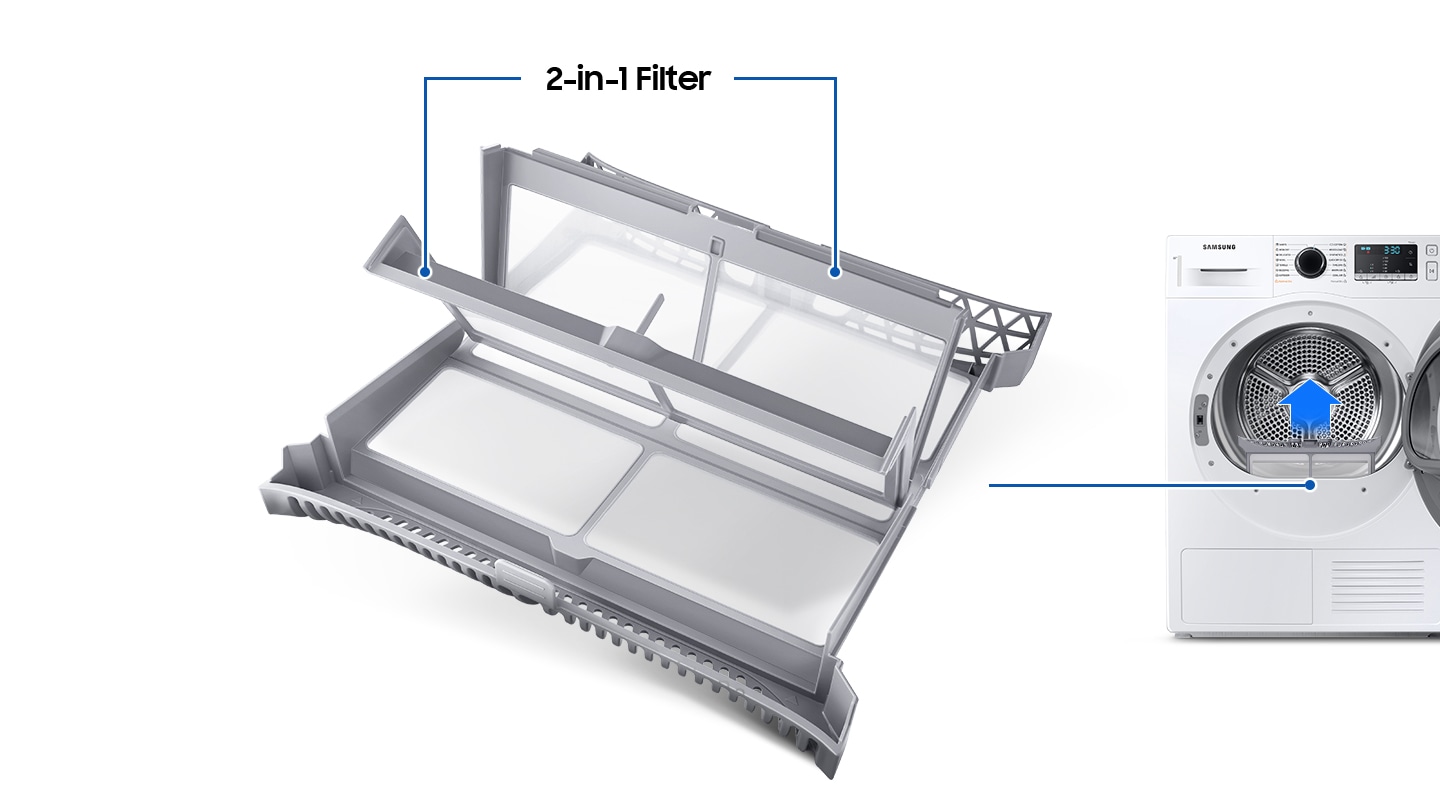 Fast dry small loads
Quick Dry 35′
Get any clothes you need dried fast, like a work shirt or school top. The Quick Dry 35′ cycle gets a small 1kg load of clothing dry and ready to wear in 35 minutes*. Using high heat it can safely dry a few items, so there's much less waiting – just dry the clothes you need, when you need them.
* May vary depending on the type of fabric.
Specifications
Energy Efficiency Class

A++

Physical specification

600 x 850 x 600 mm
Specifications Detail
Design
Body color

Inox

Door

Carved Door (Black)

Panel Display

LED
Performance
Type of Dryer

Heatpump

Cycle time (min)

190 min

Energy Efficiency Class

A++

Energy Consumption (annual)

235

Condensation Efficiency Class

B

Noise Level (Dry)

65 dB
Recurso
Interior Drum Light

Yes

Reversible Door

Yes

Child Lock

Yes

Delay End

Yes

Drum type

Diamond

Dry Level

3 Levels

Drying Rack

No

Drying Time selector

Yes

Mixed Load Bell / Damp Alert

Yes

Wrinkle Prevent

Yes

OptimalDry System

Yes
Cycle
Cool Air

Yes

Iron Dry

Yes

Outdoor

Yes

Time Dry

Yes

Towels

Yes

Warm Air

Yes

Wool

Yes

Option List

Delay End, Alarm Off, Lamp, Wrinkle Prevent, Child Lock, Dry Level, Dry Time, Damp Alert, Smart Check

Bedding

Yes

Quick Dry 35′

Yes

Cotton

Yes

Delicates

Yes

Mixed Load

Yes

Shirts

Yes

Synthetics

Yes
Physical specification
Net Dimension (W x H x D)

600 x 850 x 600 mm

Net Weight

49 kg

Full Depth Including Protruding Part

650 mm

Drum Material

Coated Steel